In an open letter titled "Iran needs un-cried tears" published on her website, Reyhaneh Jabbari's mother, Mrs. Sholeh Pakravan talks about a gathering of a group of mothers who have lost a child or two to the brutal regime of mullahs. She says that she was asked to shorten her letters of blogs. Then she starts talking about the pains and sufferings of those mothers under the brutality of the regime.
She began by describing the arrest and release of one young girl.
Shima Babaie, a kind and beautiful girl that always helped us heartbroken mothers who have had our children executed or imprisoned by this regime, has been arrested. She was released a week later on bond which is a means of holding her hostage, not a free woman.
The whip that landed on the bare backs of workers, actually embraced the face of a nation. It landed on the hearts of those who are not part of the elite and have to work hard to make a living, many times unable to feed their children and send their loved ones to bed hungry.
Mrs. Pakravan continues to give a sad description of dozens of other people who are suffering the brutality of the mullahs' regime and ends her letter by saying "why our innocent and kind sons and daughters would have to lie in the graves? It seems that we must build a barrier to stop our un-cried tears and to let these tears to transform to anger and rage at injustice and youth killing. Iran needs un-cried tears."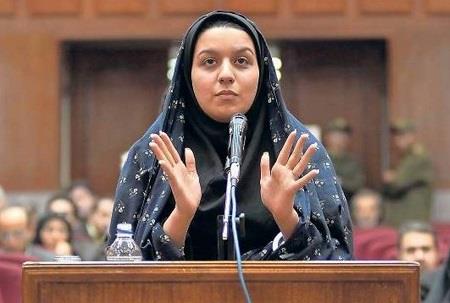 Miss Reyhaneh Jabbari was hanged back in 2014 for merely trying to defend her honor when she came under an assault from an interior ministry agent who had lured her to her office under the pretext of redecorating his office. But actually trying to rape her. Innocent Reyhaneh was only 19 years old on that dark day. She was arrested and put behind bars for 7 years until she was finally executed by hanging on Oct. 2014. Her execution brought much international condemnations. Prior to her execution, many human rights organizations as well as human rights advocates wrote letters to the criminal regime of mullahs calling on them to release her. But the brutal mullahs took the innocent life of a young girl whose only crime was to defend herself.