BEIRUT- The besieged Syrian town of Daraya has reportedly been hit with dozens of regime barrel bombs just hours after receiving its first food aid in nearly four years.
The rebel-held Damascus suburb has seen some of the most severe starvation and the heaviest bombardments since the start of the country's civil war.
The Daraya Council and local activists said around 20 bombs were dropped between 9am and midday on Friday, the morning after the UN delivered the first food aid to the town since it was cut off by Syrian government forces in November 2014.
Ahmad, an activist living in Daraya, told the Telegraph no casualties had been reported but some of their last-remaining agricultural crops had been hit.
Any sense of relief inside Daraya was short-lived, as the food supplies would not last a month and the UN had underestimated the number of people living there at present,
The convoy reportedly contained food baskets for 2,400 people, or a third of its some 6,000 residents.
One resident, who did not wish to be named, said she was grateful to see flour and lentils for the first time in nearly a year, but added: "We are obviously so glad to see food, but we are having to share it out among us and worried it won't last into next month."
A aid delivery last week had contained vaccines, medicines and baby formula, but food had not been approved by the government.
Few greeted the convoy, many refusing to believe it would happen.
"There aren't many residents waiting because they don't believe in promises anymore," Mr Matar told AFP. "And because of the bombings on the town, people are afraid to go out and gather in groups."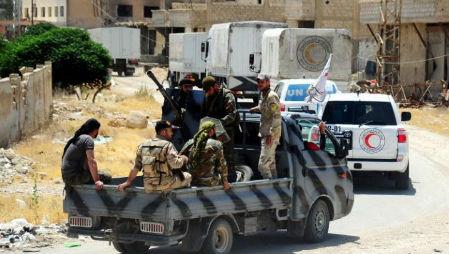 A convoy of relief aid enters the besieged rebel-held city of Daraya on June 1 but contained no food supplies.
A spokesman for the UN's World Food Programme who had delivered the aid said: "The supply of the very basic commodities is very challenging, so as a consequence the prices of the commodities themselves are very high whenever they are available.
"As a result, most families are having to do with one meal, which is not complete as a meal, per day in order to be able to get by," he said.
The US, UK and France have called for air drops of aid, given the previous reluctance of Damascus to allow relief into rebel-held areas by road.
Staffan de Mistura, the UN envoy to Syria, said he believed the pressure on the Syrian government over the prospect of air drops led it to allow aid into besieged areas.
Daraya, a suburb of the capital Damascus, has been subject to a crippling government blockade since it became of the first to erupt in protest against Bashar al-Assad's rule.
The UN estimates that there are currently 592,700 people living under siege in Syria, with the vast majority of them - some 452,700 people - besieged by government forces.
Hundreds are thought to have starved to death.
Source: The Telegraph, 10 June 2016