ISTANBUL (AP) June 7, 2016 - The Latest on a car bomb attack Tuesday in Istanbul all times local):
4:20 p.m.
Turkey's state-run news agency says police have detained four people in connection with the car bomb attack in Istanbul that killed 11 people.
The Anadolu Agency said the four suspects were being questioned at Istanbul's main police headquarters.
The attack on Tuesday morning targeted a police vehicle and killed seven police officers and four civilians.
The private Dogan news agency said the four suspects had hired the car used in the bombing attack.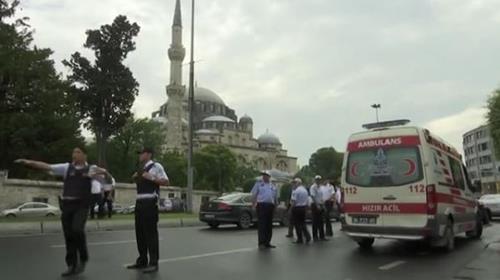 2:20 p.m.
The European Union says it stands by Turkey after a rush-hour explosion killed 11 people and wounded 36 others in an attack on a bus carrying riot police.
The EU says Tuesday that "we reiterate our continuing solidarity to Turkey, its government and its people and reaffirm our commitment to work closely together to fight the global threat of terrorism."
President Recep Tayyip Erdogan visited some of the wounded at Istanbul's Haseki hospital, where two people were undergoing surgery, and said "These cannot be pardoned or forgiven. We shall continue our fight against terrorists tirelessly until the end."
Foreign Minister Mevlut Cavusoglu condemned the attack, which occurred on the second day of the holy Muslim month of Ramadan.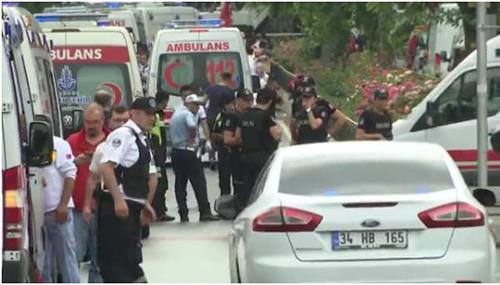 ISTANBUL (AP) June 7 - A car bomb attack targeting a bus carrying riot police during rush hour traffic in Istanbul on Tuesday has killed 11 people and wounded 36 others, the city's governor said.
Speaking at the scene of the blast in the district of Beyazit, Istanbul Governor Vasip Sahin said the dead included seven police officers and four civilians. At least three of the wounded were in serious condition.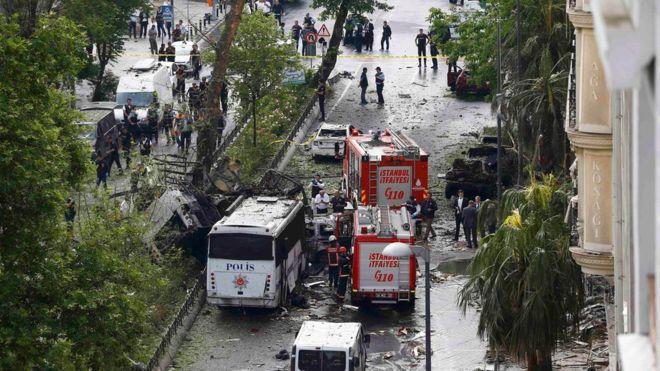 The blast occurred on a busy intersection near an Istanbul University building, forcing officials to cancel exams.
The explosion was caused by a bomb placed inside a car and was detonated as the police vehicle was passing by, Sahin said.
The police bus was overturned from the force of the blast which also damaged nearby buildings, including a hotel whose entrance appeared gutted and windows were blown out. Several cars were also wrecked.
There was no immediate responsibility claim and Sahin would not comment on who may be behind the attack.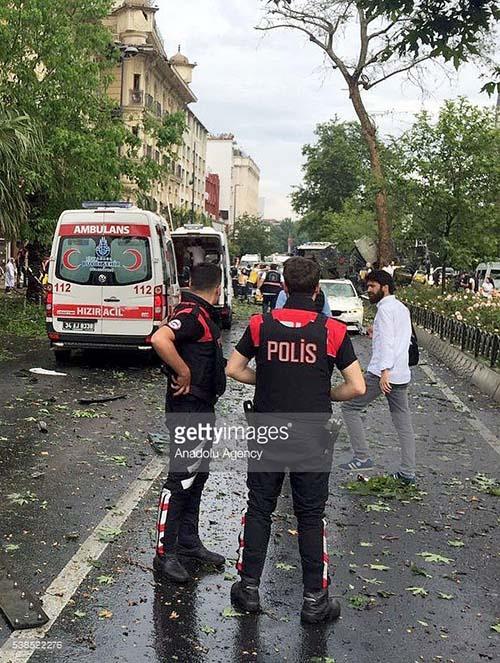 Reuters, June 7, 2016 -The latest figure on the number of casualties in Istanbul car bomb attack on a Turkish police bus reveals of 11 people killed, including seven police officers on Tuesday, according to the Istanbul Governor Vasip Sahin telling reporters near the scene.
He also said that the blast has injured 36 more people, three of them in critical condition.
Reuters, June 7, 2016 - A car bomb exploded in central Istanbul during the morning rush hour on Tuesday, killing two people, wounding at least 8 others and wrecking a passing police bus near the main tourism district, news channel Haberturk reported.
A parked car packed with explosives was detonated by remote control as the police bus drove by, CNN Turk said.
Mangled explosive laden car blew up when a police bus passed by
It broadcast cell-phone footage of a blackened and mangled vehicle on the street as vendors peered out from a souvenir shop in a district near Istanbul University.
There was no immediate claim of responsibility. But Kurdish militants, Islamic State and radical leftists have all staged attacks in Turkey recently.
A Reuters witness saw what appeared to be two police vehicles hit, one of them on its side next to the road. Gunshots were heard in the area after the blast, state-run Anadolu Agency reported.
Broadcasters showed armed police in the street near to the site where the blast struck. Haberturk said eight people were wounded.
A spokesman at police headquarters in Istanbul was unable to provide information on the incident when reached by phone.
Turkey has suffered a spate of bombings this year, including two suicide attacks in tourist areas of Istanbul blamed on Islamic State and two car bombings in the capital, Ankara, which were claimed by a Kurdish militant group.
Istanbul (AFP) June 7 - A bomb attack targeted Turkish police in a central Istanbul district on Tuesday, leaving several people wounded, the state-run TRT television reported.
The remote-controlled bomb exploded as a service shuttle carrying police officers was passing in the Beyazit district of Istanbul, the TRT reported.
Ambulances and fire engines were dispatched to the scene. Five people were injured according to initial findings, the Dogan news agency reported.
Reports said the explosion took place close to the Vezeciler metro station, which is within walking distance of some of the main sights of the historical centre including the Suleymaniye Mosque.
Pictures showed that nearby shops had their front windows smashed out by the force of the blast.
Since the start of the year, Turkey has been hit by a sequence of attacks that have rattled citizens and also caused tourism to plummet.
Meanwhile, a dozen German tourists were killed on January 12 in a bombing in the heart of Istanbul's tourist district blamed on Islamic State jihadists.
At least three Israelis and an Iranian were killed in a March 19 bombing on Istanbul's main Istiklal shopping street which was also blamed on IS jihadists.
Attacks in Turkey's heartland have had a dire effect on the tourism industry and further violence in Istanbul comes at the worst possible time heading into the key summer season.
Some 1.75 million foreigners came to Turkey in April, down more than 28 percent on April 2015, the tourism ministry said in its latest release.
The fall was the steepest monthly decrease for 17 years and raised fresh concerns about the health of the industry heading into the crucial summer season.
The US embassy in Turkey in April warned of "credible threats" to tourist areas in Istanbul and the resort city of Antalya, in particular to public squares and docks.
Turkey, a member of NATO and the US-led anti-jihadist coalition, appears to have stepped up its operations against Islamic State in northern Syria, where the jihadists control areas near the border, which some analysts say has made it more vulnerable to attack.
Istanbul, June 7 - An explosion in central Istanbul has left several people injured, Turkish media report.
The blast, caused by a bomb, targeted a police bus in the district of Vezneciler, the reports say.
Several ambulances have been sent to the area.
Violence has escalated in Turkey recently as a result of tensions with Kurdish separatists and the conflict in neighbouring Syria.