An Iranian commander and two members of the country's Revolutionary Guard Corps (IRGC) have been killed in the northern Syrian province of Aleppo, Iranian press reported, days after Tehran said it would continue supporting government forces in Syria and Iraq.
General Reza Rostami Moqadam was reportedly killed on Saturday along with Qodrat Abdiyani and Morteza Mosayebzadeh during clashes with rebel groups south of Aleppo.
"Commander Rostami Moqadam was one of the combatants of eight years of sacred defense (Iran-Iraq war)," reported Tasnim news, an agency affiliated with Iran's revolutionary guards.
The number of Iranian forces killed in Syria has risen in the past few months with at least 15 reported dead in Aleppo and Khan Tuman in May alone.
"Islamic revolution is not limited to geographic borders and wherever Islam is in danger believers must protect it," Morteza Kashkuli, an Iranian Revolutionary Commander, said on the death of his three comrades.
Tehran has long insisted that its military personnel in Syria function as advisors to regime forces and have no combat role.
"Iran will proudly and firmly carry on with its advisory assistance," said Iran's Deputy Foreign Minister Hossein Amir-Abdollahian last week.
"Had it not been for Iran's assistance and the effective measures of the army and popular forces in Iraq and Syria …, there would have been no safe spot in the sensitive West Asia region," he claimed.
Thousands of fighters and Iran-Iraq war veterans are believed to have traveled to Syria to assist Bashar Assad government forces against rebels in various parts of the country.
General Hassan Ali Shamsabadi was the last Iranian commander to be killed in Syria. He was killed early March while, according to an Iranian press report, undertaking an "advisory mission" in the war-torn country.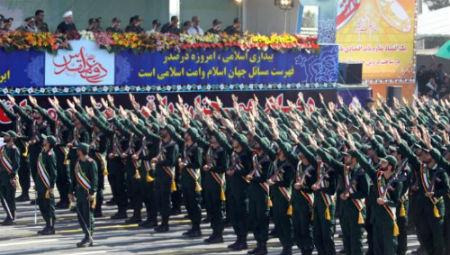 Soldiers from the Islamic Revolutionary Guard Corps (IRGC) parade in Tehran. Thousands of these troops have been deployed in Syria where hundreds have been killed.


The Telegraph reported on 10 May 2016 that almost 700 Iranian soldiers and militia fighters have been killed in Syria's civil war, laying bare the scale and cost of Tehran's intervention to preserve Bashar al-Assad's grip on power. Officially, Iran maintains that only "military advisers" have been deployed in Syria. But the state media has reported numerous battlefield casualties, with the Islamic Revolutionary Guard Corps (IRGC) disclosing last week that 13 of its fighters were killed near Aleppo.
About 2,000 troops from the Quds Force - the Special Forces wing of the IRGC - are present in Syria, according to the International Institute for Strategic Studies (IISS). In addition, 13 Shia militias have been identified among the forces fighting for Assad's regime.
The IRGC provides these units with recruits, weapons, training and military planning. In total, at least 3,000 Iranian military personnel are believed to be in Syria.
The Telegraph added: The scale of the casualties casts doubt over Iran's denials of any combat role in Syria
Their losses on the battlefield are becoming increasingly severe. About 280 Iranians were killed in Syria between the onset of Russia's intervention on Sept 30 last year and May 2, according to a tally compiled by the Levantine Group, a risk consultancy. The Iranian media reported another 400 "martyrs" in Syria between 2013 and mid-2015.
The 13 deaths in the most recent battle near Aleppo would bring the total number of Iranian dead to 693 in the last three years. Given that the first IRGC personnel arrived in Syria in 2012 and many losses have probably gone unreported, the real toll is almost certainly higher.
But the scale of the casualties casts doubt over Iran's denials of any combat role. On Feb 16, Mohammad Javad Zarif, the Iranian foreign minister, told the European Parliament: "Iran does not have boots on the ground in Syria." He added: "We have military advisers in Syria, as we have them in other places."
As Zarif spoke those words, Iranian military personnel were helping Assad's forces to break through rebel lines and encircle Aleppo from the north. In the 16 days before Zarif's denial, at least 51 Iranian troops were killed in Syria, amounting to Tehran's heaviest combat losses since the beginning of the war, according to the Levantine Group.
The presence of Iranian forces in Syria – along with their allies from Hizbollah, the Lebanese militia – has proved "indispensable" for Assad's regime, said Emile Hokayem, a senior fellow at the IISS. "It is complicated, but certainly Iran's support - both material and financial - has been a decisive factor in Assad's survival," he added.
Source: Rudaw, 6 June 2016, The Telegraph 10 May 2016