A group of university students and activists braved the country's dictatorship regime by expressing support and solidarity with famous and prominent political prisoner in the notorious Evin and Gohardasht prisons.
Students from Tehran Polytechnic University (Amirkabir University of Technology) demanded the freedom of imprisoned teachers.
These students on Sunday, May 1, put up supportive statements and photographs of the imprisoned teachers, several of who are now on hunger strike in Iran's notorious jails.
Esmail Abdi and Mahmoud Beheshti Langroudi, two teachers who are behind bars in Evin Prison, are currently on hunger strike.
Another political prisoner Ali Moezzi, whose relatives are members of the main Iranian opposition group People's Mojahedin Organization of Iran (PMOI or MEK), has announced that he plans to join Abdi and other political prisoners on hunger strike as a sign of solidarity beginning on Friday.
Separately, students at the Medical University of Qom expressed their support for political prisoner Omid Kokabee. On Saturday, April 30, the students put up banners and signs calling for Mr. Kokabee's release from prison.
Mr. Kokabee, a 34-year-old physicist, underwent surgery last month to remove his cancerous right kidney. His relatives had repeatedly warned about his various problematic health conditions, but the mullahs' regime systematically ignored their warnings in the past five years that he has been behind bars.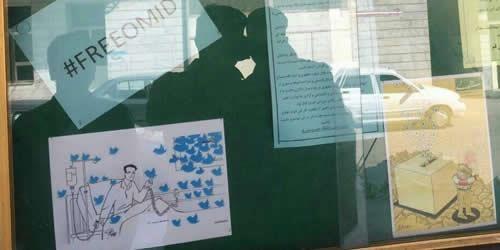 Human rights groups say Mr. Kokabee is a prisoner of conscience held solely for his refusal to work on military projects in Iran and as a result of spurious charges related to his legitimate scholastic ties with academic institutions outside of Iran.
In May 2012, after an unfair trial in the regime's so-called Revolutionary Court at which it is understood that no evidence was presented against him, he was sentenced to 10 years in prison for having "connections with a hostile government," according to Amnesty International. His sentence was upheld on appeal in August 2012.
According to human rights groups, Iranian authorities unduly delayed Mr. Kokabee's access to medical treatment in the past. In 2012, after an initial examination found that he had a tumor, Mr. Kokabee experienced a long delay in getting permission to be transferred from a prison health clinic to a hospital for critical medical examinations.
In an open letter written from prison in April 2013, Mr. Kokabee said: "During interrogations which were conducted in solitary confinement, while all my communication with my family and the outside world was cut off, and while I was constantly being put under pressure and threats by receiving news about the horrible physical and mental state of my family, I was asked again and again to write up various versions of my personal history after 2005."