The United States on Wednesday condemned a deadly strike by Syrian regime forces on a renowned rescue team, but refused to say why it had denied the group's leader a visa.
State Department spokesman Mark Toner expressed horror at what he said were "multiple aerial strikes" on a Syrian Civil Defense station Monday in the northern town of Al-Tarab near Aleppo.
"At least five members of the civil defense are believed to have been killed and many more innocent people were injured," he said.
Toner said the strikes reflect an "abhorrent pattern" in the tactics of Bashar al-Assad's regime, in which rescue and medical workers in rebel-held areas have been deliberately targeted.
The spokesman also paid tribute to the Civil Defense group, better known as the "White Helmets," for the work they have done during Syria's five-year-old civil war to save civilian victims of the fighting.
But he would not say why, earlier this month, US officials had barred the volunteer group's leader Raed Saleh from entering the United States when he arrived to collect a major humanitarian award.
Toner said US law prevents him from discussing individual visa cases.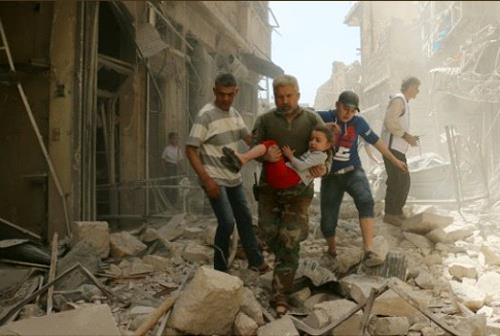 At least 20 civilians were killed in regime strikes on a hospital and nearby residential building in the Syrian city of Aleppo, civil defence volunteers known as the White Helmets have said.
A dentist and five members of a family, including two children, were among those killed "by
A doctor who was the only paediatrician in the rebel-held eastern neighbourhoods of Aleppo was also among the dead, an AFP correspondent on the ground said.
The Syrian Observatory for Human Rights monitoring group confirmed the raids were carried out by "regime airplanes" and said two hospital guards and a doctor were among the dead.
Video footage filmed by AFP showed images of the badly damaged hospital, aid workers transporting the victims in ambulances and a weeping man holding a child.
Rescuers were at the scene searching for victims trapped under the rubble, the AFP correspondent said.
Also earlier in the day, five civilians were killed in two neighbourhoods in eastern Aleppo, according to the White Helmets. An AFP correspondent said that regime aircraft targeted one area with barrel bombs and another with missiles.
Following a lull in fighting after the ceasefire took effect on February 27, violence has intensified in recent days, with more than 100 civilians reported dead in air strikes, shelling and rocket fire since Friday.
Once Syria's commercial hub, northwestern Aleppo has been divided between rebel control in the east and government forces in the west since 2012.
The fighting has put the ceasefire in jeopardy and overshadowed a new round of UN-brokered peace talks in Geneva that were entering a recess yesterday.
More than 270,000 people have been killed in Syria and millions been forced from their homes since the conflict erupted in 2011.
Source: AFP, 28 APRIL 2016