HANOVER, Germany- President Barack Obama announced on Monday the biggest expansion of U.S. ground troops in Syria since the civil war there began, saying he would dispatch 250 special forces soldiers to help local militia.
The new deployment increases U.S. forces in Syria six-fold to about 300. While the total U.S. ground force is still small by comparison to other American deployments, defense experts said it could help shift the momentum in Syria by giving more Syrian fighters on the ground access to U.S. close air support.
"I've approved the deployment of up to 250 additional U.S. personnel in Syria, including special forces," Obama said in a speech at a trade fair in the northern city of Hanover, the last stop on a trip that has taken him to Saudi Arabia and Britain.
"They're not going to be leading the fight on the ground, but they will be essential in providing the training and assisting local forces ," he added.
The U.S. military has led an air campaign against ISIL since 2014 in both Iraq and Syria, but the campaign's effectiveness in Syria has been limited by a lack of allies on the ground in a country where a complex, multi-sided civil war has raged for five years.
With German Chancellor Angela Merkel sitting in the audience, Obama also urged Europe and NATO allies to do more in the fight against ISIL.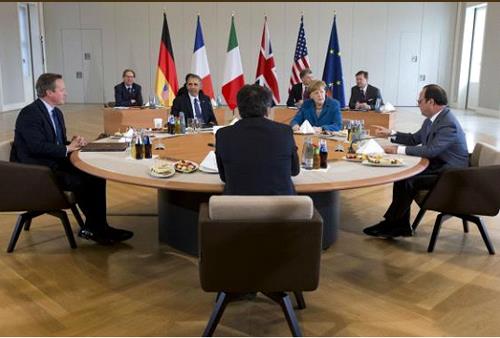 President Obama met with the leaders of Germany, France, Italy and Britain .

Even as European countries make important contributions against ISIL, Europe, including NATO, can still do more," Obama said ahead of talks later in the day with Merkel and the leaders of Britain, France and Italy.
European countries have mostly contributed only small numbers of aircraft to the U.S.-led mission targeting Islamic State fighters in Iraq and Syria.
Obama pledged to wind down wars in the Middle East when he was first elected in 2008. But in the latter part of his presidency he has found it necessary to keep troops in Afghanistan, return them to Iraq and send them to Syria, where the five-year civil war has killed at least 250,000 people.
Deputy National Security Adviser Ben Rhodes, briefing reporters before Obama spoke, said U.S. forces "are not being sent there on a combat mission".
TALKS IN MELTDOWN, TRUCE IN TATTERS
Washington's lack of allies on the ground has meant its role in Syria has been circumscribed. Washington and Moscow sponsored a ceasefire between most of the main warring parties since February, which allowed the first peace talks involving Assad's government and many of his foes to begin last month. However, those talks appear close to collapse, with the main opposition delegation having suspended its participation last week, and the ceasefire is largely in tatters.
Fighting has increased in recent days near Aleppo, once Syria's largest city, now split between rebel and government zones. A monitoring group said 60 people had been killed there in three days of intense fighting, including civilians killed by rebel shelling and government air strikes.
Source: Reuters, 25 APRIL 2016