RIYADH- US Secretary of Defense Ashton Carter announced on Wednesday his country's agreement with the Gulf Cooperation Council (GCC) to conduct joint naval patrols to confront the Iranian arms smuggling.
Carter, at a press conference with the Secretary General of the Gulf Cooperation Council, Dr. Abdul Latif Al-Zayani, reiterated to the GCC defense ministers his country's commitment to the security of the Gulf states.
He stressed that the US partnership with the Gulf Cooperation Council is firm in the face of Iran's destabilizing activities.
Carter added that the nuclear deal with Iran aims to support the stability and does not impose on his country any restrictions, stressing to keep in place the sanctions imposed on Iran in relation to terrorism and ballistic missiles.
He laid it bare that the United States would continue its efforts to confront Iran's violations.
He criticized Lebanese Hezbollah, describing it as an example of Iran's malignant activity in the region.
He also stressed his country's continued cooperation with the Gulf countries to promote security and the fight against terrorism and said the Gulf countries contribute to the fight against ISIS and urge them to do more.
For his part, Al-Zayani said that the GCC defense ministers reiterated during their meeting with Carter the importance of joint work to develop strategies to maintain the security and stability of the region.

Al-Zayani said the joint US-Gulf naval patrols would be mobilized to intercept Iranian ships smuggling arms to Yemen.
Al-Zayani said that it was agreed to strengthen the US-Gulf cooperation in the field of missile defense.
He said that the defense ministers of the Gulf countries also discussed with Carter conditions in the region and efforts to fight the ISIS, expressing at the same time concern about Iranian interference, and called for doing more to defeat the ISIS and rebuild destroyed Sunni areas in Iraq.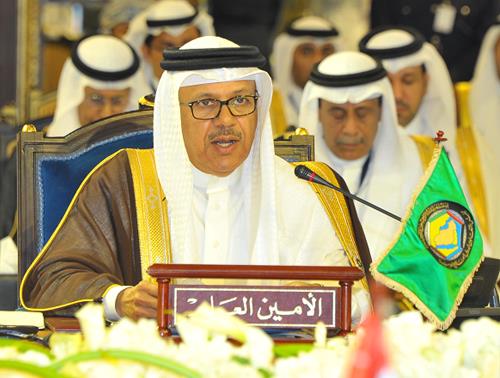 Al-Zayani pointed out that the joint US-Gulf naval patrols would be mobilized to intercept Iranian ships smuggling arms to Yemen.
U.S. officials have said Obama and Carter will seek to reassure the GCC, which groups Saudi Arabia, Kuwait, Qatar, Bahrain, the United Arab Emirates and Oman, that Washington still shares their interests and will continue to ensure their security.
Strengthening the Gulf Arab states' military and security capabilities has been part of Obama's reassurance in recent years that he will support them. Washington has also given behind-the-scenes assistance for the Saudi-led coalition campaign in Yemen.
Talks on helping Gulf states build up their security capacity feed into that. Improving their maritime capabilities, for instance, would help them interdict arms shipments that Riyadh believes are being smuggled into Yemen by Iran.
Source: KUNA, REUTERS April 20