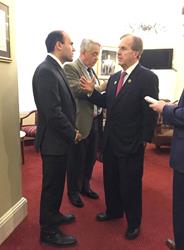 WASHINGTON - Idaho pastor Saeed Abedini, who was released after more than three years in an Iranian prison, has yet to speak publicly about his ordeal. But what he is likely to have been through as a prisoner until his release in January can be extrapolated from the experience of other prisoners who, like Abedini, were in Iran's Evin prison.
While Evin prison is notorious for mistreatment of political prisoners, few specific details are widely known.
The U.S. State Department, in its 2014 report on human rights in Iran, characterized the regimen used by the Tehran government as "white torture," which it defined as "a type of psychological torture that included extreme sensory deprivation and isolation."
Dr. Allen Keller, the director of a New York City Bellevue Hospital and New York University program for survivors of torture, said that the experiences recounted by the prisoners match his understanding of torture.
"Typically torture isn't just one thing; it's a lot of things happening -- solitary confinement, blindfolded, repeatedly interrogated, perhaps threatened," said Keller, an associate professor at New York University School of Medicine. "It's the sum."
The former prisoners all recounted a difficult time adjusting to normal life after their release, including nightmares, flashbacks and other symptoms of post-traumatic stress. The prisoners released in January likely are enduring a similar adjustment period, said J. Wesley Boyd, associate professor of psychiatry at Harvard Medical School.
After traumatic events, people's stress levels "peak soon after they leave, and over time people are going to feel better," Boyd said in an interview. "It might take more to startle a person years from now than days after being released. For some people it may be their entire life."
Josh Fattal, an American hiker who spent 781 days in Evin and was released in 2011, would talk to himself and sing. Sometimes he would hear a knock on a wall from another prisoner. It was a "rare but amazing occurrence" whenever these moments happened, he said.
Adjusting to life after prison was a "continual battle," Fattal said.
"Every day is its own struggle," Fattal said. "There would be periods where I would feel normal for a while, where I had gotten through it and come out stronger -- and then it would come up and hit me again."
Source: Sun Herald, March 28