There are four couples who are followers of the Baha'i religion amongst political prisoners and prisoners of conscience in Iran. This report identifies these couples that are separated from each other and their children these days as we reach the Iranian calendar New Year, Norouz.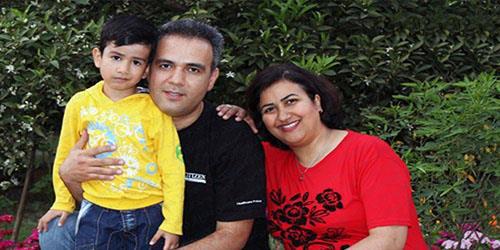 Peyman Kushak Baghi, was arrested on Sunday, February 28 when he had gone to visit his wife, Azita Rafi'zadeh, in Evin Prison along with their six-year old son, Bashir. He was arrested by three plainclothes agents before entering the visiting hall and transferred to prison to serve five years behind bars.
Kushak Baghi and his wife were arrested back in June 2011 on charges of cooperating with an Iran Baha'i internet university known as the Azad Scientific Institute.
Another Baha'i couple in prison in Iran are Adel Naeemi and Elham Farahani. Naeemi has been sentenced to 11 years and his wife to 4 years behind bars.
These two Baha'i prisoners are currently held in Evin Prison and Farahani is held in the women's ward of political prisoners and prisoners of conscience.
Naeemi has been behind bars for over 3 years and Farahani for over two years. Shameem Naeemi, their child of this Baha'i couple, is living alongside is father in prison.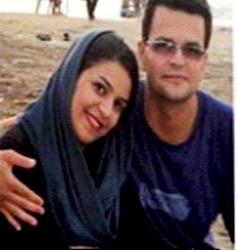 Iman Rashidi and Shabnam Motahed, Fariborz Baghi and Nateghe Naeeimi are two other Baha'i couples who are held in Yazd Prison.
These two couples were arrested and imprisoned under a court ruling condemning 20 Baha'is in the city of Yazd.
These twenty individuals were arrested in August 2012 simultaneously in the cities of Yazd, Isfahan, Kerman and Arak. Three weeks later they were released on bail. In September of 2013 the Yazd "Islamic Revolution" court condemned these Baha'is to 1 to 4 years behind bars on charges of propaganda against the state, measures against national security by forming and membership in a secret (Baha'i) organization.
The convicted Baha'is, including these two couples, were summoned to court beginning in February 2015.
Iman Rashidi and his wife, Shabnam Motahed, were summoned to Yazd Prison on 19 March 2015.
These two Baha'i citizens have been held in Yazd Prison for over 11 months. Iman is sentenced to three years and Shabnam to two years behind bars.
Fariborz Baghi, another Baha'i convicted by the Yazd "Islamic Revolution" court, was summoned to prison on March 7. He and his wife, Nateghe Naeemi, were sentenced to 2 and 1 year behind bars, respectively.
After being summoned Nateghe Naeemi and another Baha'i woman by the name of A'zam Mottahari entered Yazd Prison on October 6, 2015.
They have a son and daughter.
(March 9, 2016)