CAIRO, Jan 3 (KUNA) -- The Arab League has condemned "in the strongest words" the aggression on the Saudi Embassy in Tehran and the Kingdom's Consulate in Mashhad.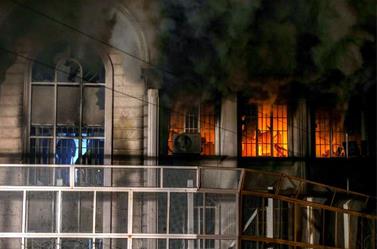 In a statement on Sunday, the League's Secretary General Nabil Al-Araby considered the attacks "a blatant violation of the international charters and conventions,: holding the Iranian government fully responsible for the protection of the premises, according to the Vienna Convention on Diplomatic Relations of 1961.
He stressed the fact that Iran must respect the principle of non-interference in the internal affairs of the Arab countries which have the legitimate right to maintain the safety of their citizens, civil peace and the integrity of social fabric.
In addition, Al-Araby said that no party has the right to comment on judicial rulings in other countries.
He lauded the Saudi efforts to counter terrorism and realize security and stability in the Kingdom, reiterating that the League stands side by side with the country.
Iranian protesters stormed the embassy in the Iranian capital, and attacked the consulate in Mashhad late Saturday.