Supporters and sympathizers of the Iranian Resistance and the NCRI from around the world have held tributes to the victims of last Friday's terrorist attacks in Paris.
Memorials were held by the Iranian Resistance's supporters in Atlanta (U.S.), Berlin, Bern, Brussels, Copenhagen, Gothenburg, London, Oslo, Paris, Rome, Stockholm, The Hague, and Val d-Oise (France).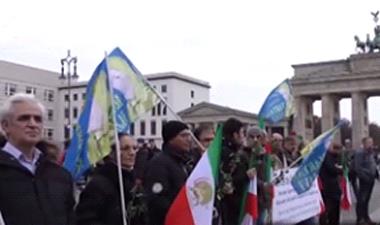 Many Iranians who attended the ceremonies laid wreaths of flowers outside the French embassies in many of the world capitals.
The Iranians declared their solidarity with the people of France in the common struggle against Islamic fundamentalism.
Maryam Rajavi, President-elect of the Iranian Resistance, on Monday, November 16 joined French citizens in observing a minute of silence in memory of the 129 people killed in the armed attacks and massacres in Paris on November 13.
The NCRI held a memorial in Auvers-sur-Oise, north of Paris, for the victims of the terrorist attack by Islamic fundamentalists.
Mrs. Rajavi reiterated that fundamentalism in the name of Islam - whether under the banner of Shia and velayat-e faqih or under the banner of Sunni and Daesh – and their inhuman crimes have nothing to do with Islam, and this evil phenomenon, wherever it may be, is the enemy of peace and humanity.
Members of the main Iranian opposition group, the People's Mojahedin Organization of Iran, in Camp Liberty, Iraq, who themselves were victim of a terrorist rocket attack by agents of the Iranian regime at the end of October held a memorial service on November 16 for the victims of Paris attacks.
The members of the PMOI (or MEK) lit candles and held signs reading: "From Camp Liberty prison: I am a Parisian."
France's tri-color flag and the flag of the Iranian Resistance were raised at the memorial which was held on the rubble of the attack at Camp Liberty. Flowers were placed in memory of 129 people killed in the attacks in Paris and the 24 PMOI members killed in Camp Liberty.
Both the French national anthem and that of the Iranian Resistance were performed.