Former Revolutionary Guards chief Mohsen Rezaie on Sunday at the ceremony where the corps of senior IRGC commander Hossein Hamedani was transferred from Syria, referred to the crimes committed by Hamedani in Syria and the key role he played for Khamenei and his regime in Syria.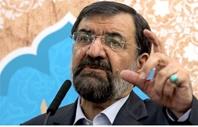 "Hamedani took part in at least 80 operations in Syria," Rezaie said.
"In Aleppo he built the Fort Hazrat Roqiye and organized over 40 to 50,000 Syrians [for battle]," he added.
"It is clear that Hamedani was killed in Syria so that Tehran would be safe from insecurity," Rezaie continued.