Ahwaz, Qazvin, Qom, Mashhad, Ilam, Shooshtar and Aligoodarz cities are joining the demonstration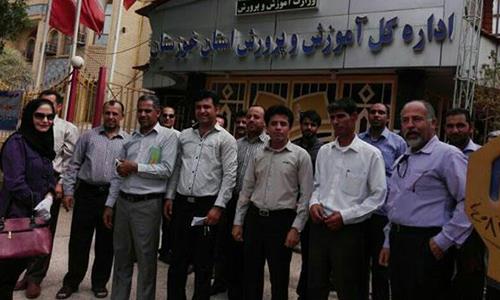 In the city of Ahwaz, southern Iran, teachers took part in the nationwide teachers' demonstration despite police and security guard intimidation. Ahwaz teachers rallied outside the education ministry branch in the province and called for the freedom of imprisoned teachers and political prisoners.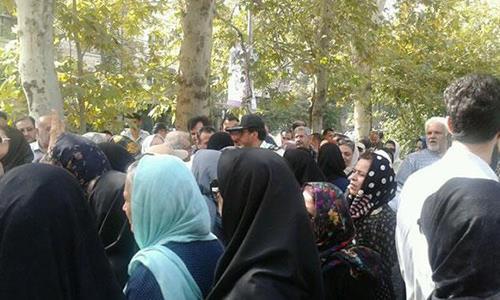 Qazvin teachers also staged a demonstration today in front of the local office of the ministry of education to express solidarity with thousands of other teachers nationwide. They also demanded the freedom of their colleagues from jail.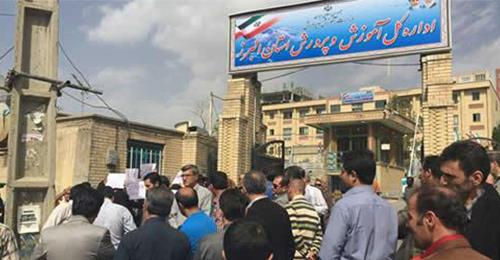 Other reports from Karaj, west of Tehran indicate that teachers there also took to the streets in solidarity with the nationwide teacher's protest. They were carrying placards reading:
Is protest to discrimination a crime?
You cannot remedy teachers' problems with just cosmetic measures!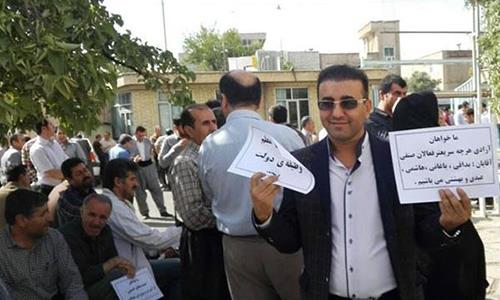 In Sanandaj, west of Iran - where a major riot was reported some months ago after the death of the young girl, Farinaz Khosravani who jumped to her death from the fourth floor of a hotel to avoid being raped – protesting teachers carried placards reading "We demand the immediate freedom of social workers, Mr. Bodaghi, Baghbani-Hashemi, Abdi and Beheshti.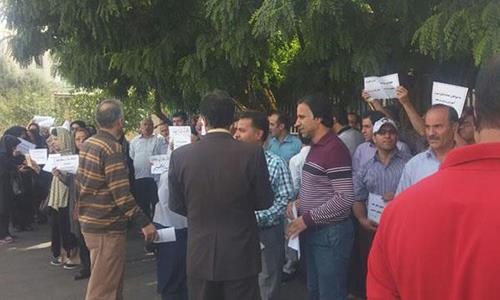 In Ilam, also west of Iran, teachers and academicians rallied in front of the local office of the education ministry. This was in spite of the presence of dozens of riot guards and security forces to prevent the demonstration from taking shape.
In Mashhad, northeast of the country, teachers joined voices with other teachers from across the country to say "Free political prisoners" and "Free our imprisoned colleagues."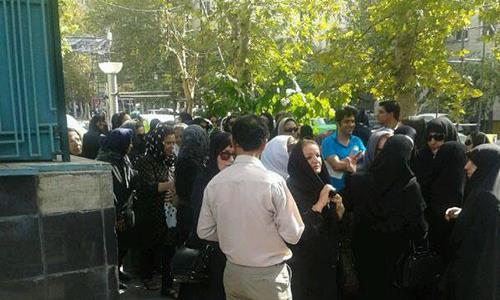 In Robat Karim, suburb of the capital Tehran, a similar demonstration took shape.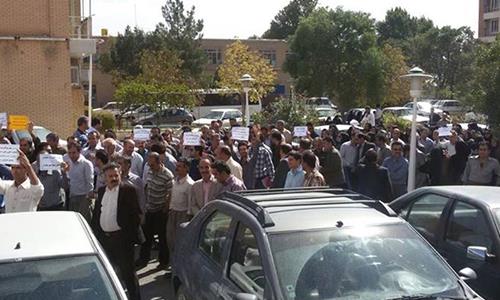 In Shahr-e Kord, Aligoodarz, Shooshtar, Qom and Sooldooz town, in East Azerbaijan, a large number of teachers demonstrated to protest the low wages, discrimination and bad working conditions.