AFP - 29 April 2015 - Saudi Arabia's King Salman announced a new heir and made his son second in line to rule Wednesday, concentrating power in his inner circle as the kingdom faces enormous regional challenges.
The major shake-up in the line of succession and cabinet comes with oil giant Saudi Arabia increasingly assertive in the fight against Islamic extremists and in its rivalry with fellow regional power Iran.
Since acceding to the throne following the death of King Abdullah in January, Salman, 79, has been steadily bringing loyalists into the deeply conservative kingdom's upper reaches of power.
Salman on Wednesday named his 55-year-old nephew Prince Mohammed bin Nayef -- the powerful interior minister who once led a crackdown on Al-Qaeda -- as the new crown prince, replacing Prince Moqren bin Abdul Aziz bin Saud, 69.
It was the first time a Saudi crown prince was relieved of duty and Moqren was the last son of the kingdom's founder Abdul Aziz bin Saud in line for the throne.
Salman also named one of his sons, Mohammed bin Salman, to be deputy crown prince -- ensuring power will pass to a new generation after his death.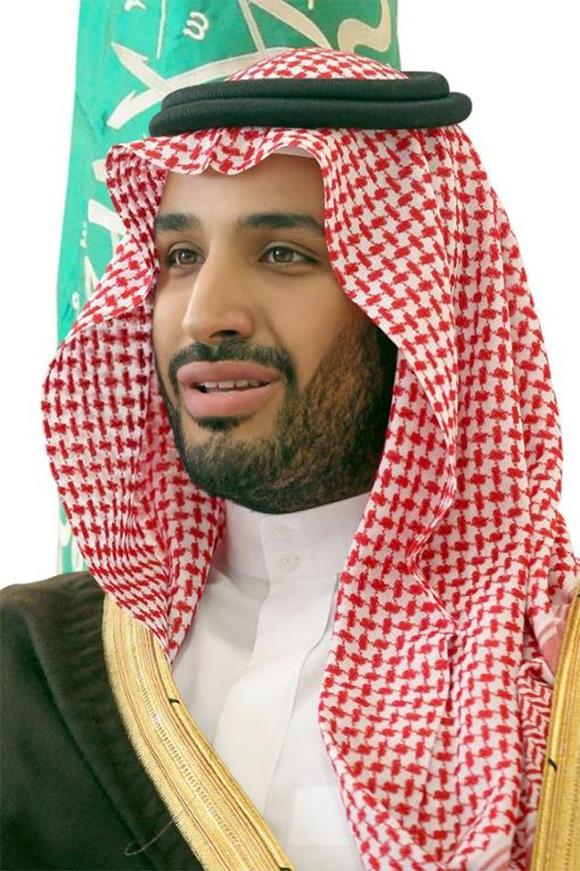 Saudi Arabia's new deputy crown prince, Mohammed bin Salman,
Mohammed bin Salman, whose exact age is not known but who is in his early 30s, will also remain as defense minister, overseeing the Saudi-led air war against Iran-backed Huthi rebels in Yemen.
"It's a historical shift really. It's real generational change," a Western diplomatic source told AFP, speaking on condition of anonymity.
Saudi Arabia's longtime envoy to the United States, Adel al-Jubeir, 53, was also appointed foreign minister, replacing Prince Saud al-Faisal who held the post for four decades.
Faisal, who had been the world's longest-serving top diplomat, stepped down for health reasons.
Moqren had been one of the few remaining high-level officials from the era of King Abdullah, who died on January 23 aged about 90.
Moqren had no ministerial portfolio and his replacement is not much of a surprise, the diplomatic source said.
The new appointments further solidify the hold on power of Salman's Sudayri branch of the royal family, whose influence had waned under Abdullah.
"These changes are aimed at fostering agreement at the head of the state as it faces a dangerous phase... in its standoff with Iran," said Abdelwahab Badarkhan, a London-based analyst.
"The two new crown princes get along well with the United States" at a time when the kingdom is "engaged in an unconventional military policy," he said.
Under Salman, Sunni-dominated Saudi Arabia has adopted a more forceful foreign policy, most clearly shown in its leadership of the Arab coalition targeting the Yemen rebels.
The Shiite rebels have seized control of large parts of Yemen, prompting President Abedrabbo Mansour Hadi to flee to Riyadh.
The Saudi-led strikes were launched last month as Riyadh feared a Tehran-friendly regime seizing control of its neighbor to the south.
Saudi Arabia is also a member of the US-led coalition carrying out air strikes against Islamic State group jihadists in Syria and Iraq and has faced unrest at home.
Authorities said this week that they had arrested 93 jihadists since the end of 2014, most of them linked to IS, and foiled several plots to carry out attacks across the kingdom.
Jubeir's first test as the new foreign minister will come on Thursday when Gulf foreign ministers meet in Riyadh to discuss the campaign in Yemen ahead of a summit of their heads of state next week.
Jubeir -- a rare member of the Saudi ruling elite not from the royal family -- has been Riyadh's ambassador to Washington for eight years and at the forefront of the kingdom's public relations efforts.
The shake-up also saw Salman name Khalid al-Falih, the head of oil giant Saudi Aramco, as health minister.
Ali al-Naimi retained his position as the OPEC kingpin's oil minister, a position he has held for 20 years.
Labour Minister Adel Fakieh was moved to the post of economy and planning, as the kingdom seeks to diversify its oil-based economy.
But the country's highest-ranking female official, Nora bint Abdullah al-Fayez, was let go from her post as deputy minister of education for girls.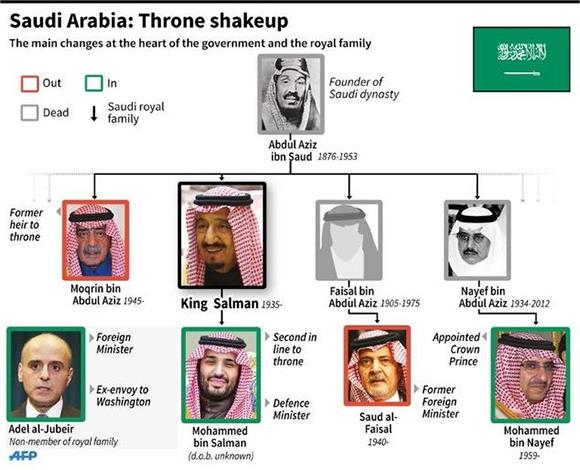 Saudi Arabia: Throne shakeup (AFP)