AFP - 25 February 2015 - The kidnapping of dozens of Assyrian Christians by the Islamic State jihadist group in Syria has prompted an exodus of terrified families fleeing their homes, activists said Wednesday.
The United States condemned the mass abduction of Christians -- the first of its kind in the war-torn country -- and demanded the release of the 90 hostages.
Nearly 1,000 Assyrian Christian families have fled their villages in the northeastern province of Hasakeh since Monday's kidnappings, said Osama Edward, director of the Sweden-based Assyrian Human Rights Network.
About 800 families have taken refuge in the city of Hasakeh and 150 in Qamishli, a Kurdish city on the border with Turkey, Edward said, adding that the number of displaced individuals came to about 5,000.
Most of the hostages were women, children or elderly, he added.
Edward told AFP he believed the mass abduction was linked to the jihadists' recent loss of ground in the face of US-led coalition air raids against IS that began in Syria in September.
The jihadists, who are battling Kurdish fighters on the ground, may try to exchange the Assyrian Christians for IS prisoners, according to Edward.
He said the aim of the jihadists is to take over the Assyrian Christian village of Tal Tamer, which is located near a bridge over the Khabur River that links Syria to Iraq.
According to the Syrian Observatory for Human Rights, Kurdish fighters battling the jihadists on Wednesday recaptured three Assyrian villages and a nearby Arab village.
"The (Kurdish) People's Protection Units (YPG) have reclaimed Tal Shamiran, Tal Masri, Tal Hermel and Ghbeish," said Observatory director Rami Abdel Rahman.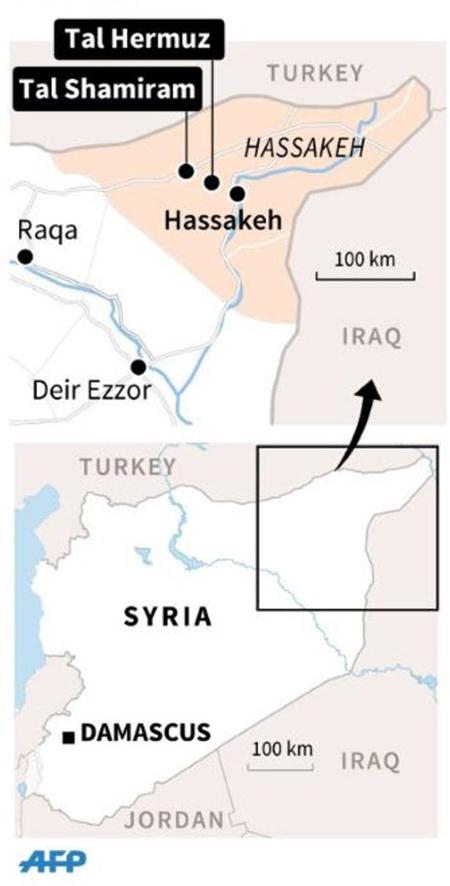 Map of Hassakeh showing two villages -- Tal Shamiram and Tal Hermuz