AFP - 18 February 2015 - Egypt called Wednesday on the United Nations to lift an arms embargo on Libya as Cairo pushes for greater international efforts to combat jihadists in its war-torn neighbor.
In talks in New York ahead of a UN Security Council meeting, Foreign Minister Sameh Shoukry told fellow diplomats that Libya's internationally recognized government needed to be better armed to take on Islamist militias who have seized large parts of the country.
Sameh is calling on the Security Council to "assume its responsibilities in regards to the deteriorating situation in Libya" and to "reconsider the restrictions imposed on the Libyan government on arms deliveries," the ministry said in a statement.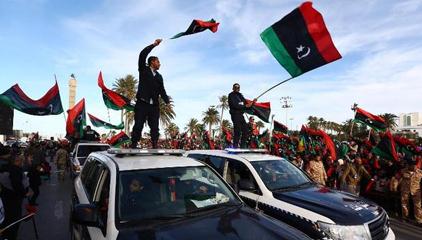 Libyans in Tripoli celebrate the upcoming fourth anniversary of the Libyan revolution
He also "underlined the need to allow countries in the region... to support the Libyan government's efforts to impose its authority and restore stability".
Egypt is seeking UN backing for concerted international action after it launched air strikes on Islamic State group targets in Libya in response to the jihadists beheading a group of Egyptian Christians.
Libya's internationally recognized government claims its efforts to control the country have been hobbled by a UN arms embargo imposed at the start of the 2011 uprising that ousted and killed dictator Moamer Kadhafi.
Libya has since descended into chaos, with the government forced to flee to the country's east and Islamist-linked militias in control of Tripoli and other main cities.
Shoukry, who the ministry said had met with the UN envoys of the five permanent members of the Security Council, also called for steps to be taken "to prevent armed and terrorist groups from obtaining weapons illegally".