INTV, 25 Oct 2013 – The Iraqi people's massive Friday prayers and demonstrations in Iraq were staged in the six uprising provinces of Baghdad, Al Anbar, Salahaddin, Neinawa, Kirkuk and Diyala. Al Jazeera TV reported the demonstrations and protest camps against Maliki witnessed in six Iraqi provinces entered their 15th month.
Sky News TV reported the nationwide demonstrations in Iraq are in line and continuing with the protests that have taken place for over 10 months in Iraq's north and west cities against Maliki's government and the current security stats. Al Jazeera Live, Al Tagheer, Al Fallujah, Baghdad, Al Rafedein, Al Gharbiya and Al Babeliya all provided live coverage on these demonstrations.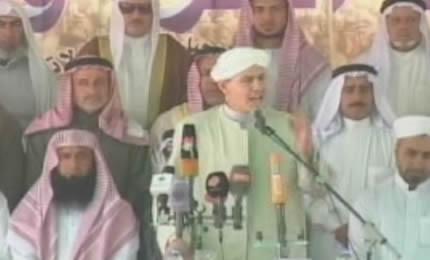 Terrorist attacks and repressive measures imposed by Maliki's military and paramilitary forces had targeted the demonstrators from the night before. In addition to the attack against a grand mosque in Mosul that took place by Maliki's "SWAT" forces on Thursday night, Al Tagheer TV reported coinciding with the people's demonstrations on Friday, an IED in the Yousefiya district of southern Baghdad left 9 people killed and injured. Furthermore, according to Fallujah TV the police of Al Anbar Province imposed intense security measures around the protest camps in this province.
Hours after these demonstrations Baghdad TV reported the imam of a grand mosque in the city of Ramadi had been assassinated. Sheikh Ahmed Jome'e, the imam and speaker of the Ramadi Grand Mosque at the end of the Friday prayers in this city was assassinated on his way to his home in the village of Asriya located west of Ramadi.