Le Monde, 9 Jan 2013 – Maryam Rajavi was born in a middle-class family in 1953. She graduated in mine engineering from the Sharif Industrial University. Mrs. Rajavi in the 1970s and through her brother, who was a political prisoner during the Shah's rule, got to know the People's Mojahedin and began her activities in contact with families of martyrs and political prisoners. She was a freedom activist who led the students' movement against the dictatorial monarchy regime.
Mrs. Maryam Rajavi has a 31-year old daughter and one of her sisters by the name of "Narges" was executed during the Shah's rule, and under Khomeini's rule her younger sister by the name of "Masoumeh" was tortured and executed while pregnant. After some time Masoumeh's husband was also executed.
Following the Shah's fall, Maryam played an important role in recruiting high school and college students, and organizing protests in various regions across Tehran, including the spring 1981 protests and the mass rally of June 20th of that same year. During this period Maryam was a candidate of the PMOI for Tehran in the parliamentary elections, and despite widespread vote rigging by the state she received 250,000 votes in Tehran and therefore was eligible to enter the Majlis (parliament). However, the mullahs' regime ruling Iran prevented even one PMOI member from entering the Majlis.
Following the beginning of resistance on 20 June 1981, her base was the target of frequent attacks, from which she survived. In 1982, she transferred to Paris in the resistance movement's political center where the National Council of Resistance of Iran was stationed, and assumed responsibilities in various posts. Due to her excellent skills and quality, in February 1985 Maryam entered the organization leadership and after four years was elected as the PMOI Secretary General.
While serving in these positions, she provided facilitations and the necessary grounds to increase women's participation in all ranks and sections of this expanding legitimate resistance, bringing about a revolution in the resistance movement's activities and viewpoints. This enabled all its members to participate in the great perseverance and persistence against the most bloodthirsty dictatorship regime in modern history.
Thanks to the leadership of Mrs. Rajavi and the conditions and opportunities that she provided for women, the women of the PMOI have reached important and serious ranks in the Iranian Resistance. Women make up one third of the members of the National Liberation Army and most of its commanders while they make up half of the members in the resistance parliament in-exile (National Council of Resistance of Iran). They also and played a significant role in all political, cultural, executive and administrative arenas.
On 28 August 1993 and considering her merit, services and qualities, the National Council of Resistance of Iran elected Mrs. Maryam Rajavi as Iran's future president in the period of sovereignty transition to the people, to be the arrowhead in the struggle against this evil regime, leading the spirit of fighting for freedom and the will of the Iranian Resistance to bringing about justice, and representing the symbol of national unity.
Subsequently, on 17 September 1993 Maryam Rajavi resigned from all of her posts in the PMOI.
"In this new position, I see my newest responsibility as creating and expanding national solidarity… the Iranian Resistance is not just a political movement, it is an all-out humanitarian movement," she said on her new position in the Iranian Resistance.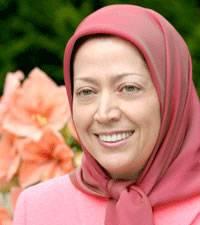 A look at Maryam Rajavi's viewpoints
- Democracy and freedom are not just a commitment for our resistance, but something we believe in because we have learned and experienced that we will never be able to achieve our hopes and wishes unless we prepare this path to freedom and then maintain and protect it. After that, those hopes and wishes of ours will be accomplished on their own.
- By analyzing the position of women in all societies, one can come to understand the status of that society, government, trend and period they are in to reach true democracy. This is the best criteria to test the depth of our belief as a democratic movement.
- What is important most of all for our women is that captivity and servitude is not forever. Although this might be the beginning, but they are convinced that this is the main subject because once they understand this, they gain the courage of revolution and to rise against all odds that seek to enchain and imprison us.
- For us, dealing with a reactionary regime, we had to cleanse ourselves and our beliefs of all the reactionary subjective customs and superstitions, and literally break their reactionary beliefs of misogyny and doubting the humane status and leadership abilities of women in society. This is the only method for women to break free of history's disgraceful enchaining of women and the cruelty and discrimination that even women have placed upon themselves, in order to raise the self-confidence in themselves.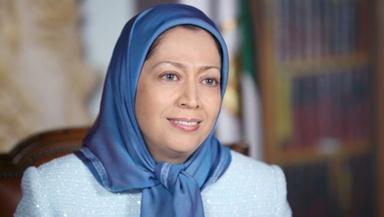 Sections of fundamental freedoms in the Iran of tomorrow
Presented by Mrs. Rajavi on 16 June 1995
In the Iran of tomorrow, women will enjoy completely equal social, political and cultural rights with men, including:
- The right to choose and participate in all jobs and elections, and the right to vote in all referendums;
- The right to employment and freedom to choose employment, and the right to obtain any public, government and judicial post, including in all judicial bodies;
- The right to take part in political and social activities, and the right to commute and travel without anyone's permission;
- Complete freedom in choosing spouse and marriage, and equal rights in divorce, while polygamy is prohibited;
- The right to choose clothing;
- The right to use, without any discrimination, all education, athletic and artistic facilities and assets and the right to freely participate in all athletic competitions and artistic activities;
- In the Iran of tomorrow, all gender, sectarian and faith advantages will be annulled and all people will enjoy equal political and social rights.