Press release-Madrid 18 December 2012

The Foreign Affairs, Equality and International Cooperation committees of the Spanish Senate held a special meeting on Iran today. The key-note speaker was Mrs. Maryam Rajavi, President-elect of the National Council of Resistance of Iran. The meeting was held on the latest situation on human rights, particularly the women, nuclear arms project in Iran and also on export of terrorism and fundamentalism by the Iranian regime. The senators welcomed the secular-democratic platform presented by Mrs Rajavi and her 10 point plan for future of a free Iran.
The three committees also listened to the Iranian opposition leader on the latest developments with regards to the Iranian opposition and members of resistance residing in Camps Ashraf and Liberty in Iraq. Mrs. Rajavi responded to questions raised by members of the Senate.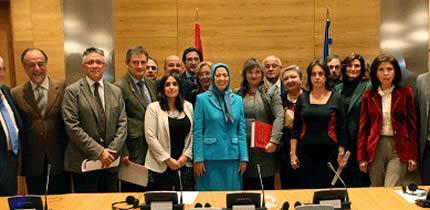 The Senators stress the following points:
1- Expressing concern regarding increasing violations of human rights in Iran, call for conditioning of further economic and political relations with Iran to improvement of the situation of human rights;
2- Share the concerns of the Iranian Resistance regarding residents of Camps Ashraf and Liberty where thousands of members of the opposition, PMOI reside in Iraq. They call for guarantee of protection and observation of basic rights of the residents, particularly their rights to ownership, by the government of Iraq and also for designation of Camp Liberty as a refugee camp;
3- Support the solution provided by Mrs. Rajavi to resolve the Iranian crisis, through democratic change by the Iranian people and Resistance;
4- Call for action by the Spanish government to realize the above, in both national and European Union level.